THEN:
NOW:

Teacher and Football Coach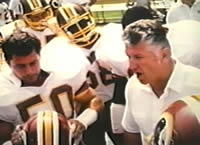 Wayne Sevier was a teacher and coach. He loved people. Wayne always seemed to have entertaining stories to share about people he had known. And he knew a lot of people. In fact sometimes it seemed that everyone knew Wayne. Whether you were a student of his or a player on one of his teams, or if you had ever met him, he would remember you and make you feel good. He could remember down and distance, play and yardage, for every play in every game in which he was involved.
Wayne Sevier was a serious man with a great sense of humor. His children describe him as the wisest man they ever knew. His players thought of him as a coach, a friend, and the ultimate prankster. The dumbest little pranks (got you to look!) were sometimes the cause of hysterical laughter. Other times he would spend months setting up a prank. He would drum his fingers against a table or podium in just such a way so the clank of his Super Bowl rings got his players attention.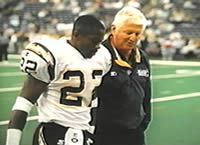 Wayne was a winner. He could point to some great personal achievements. But it wasn't the individual accomplishments that Wayne pointed to with satisfaction. It was the team achievements that mattered the most to him. His NFL coaching career spanned more than twenty years. His 11 seasons with the Washington Redskins, under Head Coach Joe Gibbs, produced 7 playoff appearances, 4 Eastern Division titles, 3 NFC Championships and 2 Super Bowl Championships. Wayne's fiercely competitive personality, capacity for hard work and willingness to do whatever was needed to win, helped make that record of success on the field possible.
Wayne was always quick to credit the Boys & Girls Clubs in National City, California, as the place where his sports career began. The club was located close to his home in National City and during his youth, he spent every available moment at the Club. Wayne was on hand in 1992 for the groundbreaking of the club's new gymnasium. That gym is now named after him and dedicated to his memory.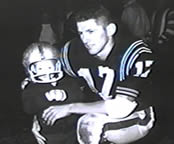 Wayne was a graduate of Sweetwater High School in National City, CA. In l963, he graduated from San Diego State University, with Distinction in Mathematics. When Don Coryell became head coach at State in l961, Wayne was Coryell's first starting quarterback and helped lead the Aztecs to their first California Collegiate Athletic Association title under Coryell in l962. He led the Aztecs in passing as a senior and in total offense 2 straight years totaling l,649 yards, while also leading the team in scoring as a junior. At the age of 24, Wayne became the head football coach at Sweetwater High School in l965. He held a lifetime teaching certificate in California, and he coached and taught eight years at schools in the Sweetwater District, and coached one year at Cal Western University in San Diego in l968.
He was an exceptional athelete. He played basketball, racketball and lifted weights throughout his life, but he loved golf. It was his pasttime, and relaxation, unless money was on the line.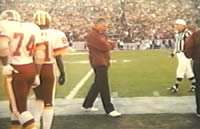 Wayne's NFL career began in l974 at the St. Louis Cardinals when head coach, Don Coryell, hired him to handle special assignments. He was the team's statistition. Joe Gibbs was the offensive backfield coach for the Cardinals at that time. In l976, Wayne served as the special teams coach for the Atlanta Falcons for the last half of that season. Following the '76 season, Wayne moved to Idaho and was hired as the head coach and athletic director of the Kellogg, Idaho, school district. He was then hired by the Chargers in l979 under head coach Don Coryell. The Chargers advanced to the final game in the AFC playoffs in l980. Joe Gibbs was the offensive coordinator at the Chargers and when hired as the head coach for the Washington Redskins in l981, Gibbs hired Wayne to coach the Redskins' special teams. A desire to live closer to his children and grandchild brought Wayne back to the Chargers for the l987-88 seasons. In '89, Wayne returned to the Redskins and coached there until l994 when the Los Angeles Rams hired him. In '95 Wayne moved with the Rams to their new home in St. Louis and coached the Rams' special teams for their inaugural season. Wayne retired from professional football at the end of the '95 season and moved to Coeur d'Alene, Idaho. He was called out of retirement and coached special teams at the San Diego Chargers for the '98 season.
Wayne passed away suddenly of a heart attack on October 2, l999. He spent his last hour with his oldest son Mike, watching his grandson play football.